FAQs
Isn't this cheating?
Not everyone learns the same way. Some people benefit from doing Membean. Others can study a list of words and learn them quickly, and don't need to be forced to sit at the computer for an arbitrary length of time three days a week. For those people, Membean is a gigantic waste of time.

Vocabubot was not created to help you cheat. It will not take tests for you, and you are still responsible for studying your words. Vocabubot simply gives you the option to study the way that works best for you.
I've seen other Membean hacks online. How is this different?
Other solutions attempt to hack Membean's code, which throws dubious minute alerts. Vocabubot does not touch Membean's code, and therefore does not trigger dubious minutes alerts.
Why do you need my Membean password? Isn't this something I download?
No, and that's the beauty of Vocabubot. You don't download anything and you don't do anything. Vocabubot does your Membean for you, but Vocabubot needs to sign into your Membean account to do so. But don't worry, any information you provide us is encrypted, and we will never share your information with anyone.
Will Vocabubot work if my school logs into Membean through Google?
Yes. Simply provide the information for the Google account that your school uses for Membean. Upon initial activation of your Vocabubot account, we may need to contact you to answer any Google security questions, or help you remove them. This should be a one-time part of the initial set-up process.
Can Membean tell I'm using Vocabubot?
No. Vocabubot interacts with Membean the same way you do.
Do you sell/share my personal information?
No. All customer data is kept for internal use only. When your subscription ends your information is deleted from our databases completely, leaving no trace.
Why should I pay $10 for this?
Vocabubot was created because we believe you have better things to do in life. Go practice for the big game on Friday. Go out for pizza and a movie with your friends. Cyberstalk that cute guy in Science class. Write a song. Paint a sunset. Play catch with your little brother. We believe high school is stressful enough without having to worry about remembering to do your Membean on time. Isn't that worth a few cents a day?
What does 'a year' of time look like? Should I wait to buy this until the beginning of the school year?
From the point of purchase, you get 365 days to use Vocabubot freely, with virtually no limitations on usage. Regardless of when that purchase happens, you still get a full year of usage, whether you want peace of mind during summer, or you decide you're sick of Membean halfway through year. Vocabubot may be unavailable more often during the summer.
Do I have to pay for all purchased years at once?
No. Your Vocabubot subscription auto-renews, but you only pay for Vocabubot one year at a time. So you would pay $10 now, and if you only want to use it for one year, cancel your subscription before the end of the purchased period.
How do I pay?
You can pay with PayPal or by credit card. Everything goes through PayPal for our safety and yours, but you don't have to have a PayPal account to pay.

When you push the Purchase button, you'll see a PayPal page, as illustrated by the screenshot below.

Press the PayPal button to pay with your PayPal account, or press the Subscribe button to pay with a credit card.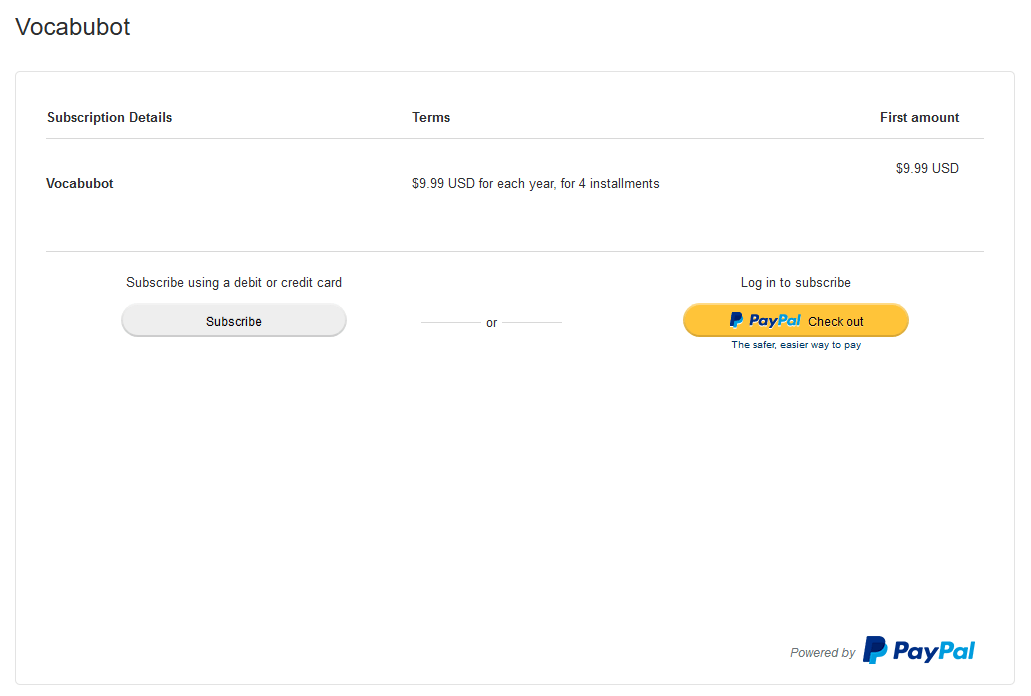 How can I review for my Membean quizzes?
If you would like to review the words that your account has completed thus far and may potentially be on a quiz, you may do so from your Membean dashboard. There are two different styles you may have; classic or the new UI.
| NEW MEMBEAN UI | CLASSIC MEMBEAN UI |
| --- | --- |
| You will see this screen upon logging in. Your session goals will be on the top right, as well as your overall accuracy. Click "All Words Learned" at the bottom right. | You will see this screen upon logging in. Next, click on any of the links under All Learning Sessions that say "SEE". You will see a list of words |
| You will see this screen. Click on the "READY" tab. | Click any of the words visible under any section to study them. Membean uses words from "READY", and "QUIZZABLE" sections. |
| These words as well as the words under the "Quizzable" tab will be tested. | Click any word to view its in-depth definition! |
| Roll over any word visible to see the definition, or click on it to view more information. | :) |